THE LIVE RICH PLANNER
Designed for people with busy lives who crave creative organization
Welcome to the Live Rich Planner® – the one place to organize your busy, exciting, hectic life. The Live Rich Planner® is more than just a planner. A tool to help you organize and anticipate every aspect of your life, it's designed to encourage you to plan, attack your goals, dream big, and be creative. Most importantly, this planner was created to make your life easier.
WHAT'S INSIDE
Each part of the Live Rich Planner® provides a foundational structure which acts as a solid template, allowing plenty of room for creativity, customization, and personalization. Each month includes:
Monthly Calendar: Use the Monthly Calendar to plan your entire month. Capture your monthly goals, people you'd like to see, and celebrate your monthly progress.
Personal Finance: Use the Monthly Personal Finance spread to track spending and expenses, set financial goals, and to quickly determine if you are on track to win with your money!
Weekly View: Use the unique Weekly layout to track your appointments, meetings, and events. Each day is broken down into half-hour time slots!
Personal Planning: Use the Personal Planning layout to organize your home life. Track goals and habits and write out to-do lists. From meal planning to cleaning tasks, this layout is designed to keep you organized at home and in life!
BENEFITS
Customize It
Whether you are busy mom craving structure, a grad wanting to tackle a budget, or a professional looking for ways to balance work, family, and your goals, this planner is designed to fit your unique needs.
Stay Focused
Monthly, weekly, and daily focus sections keep you focused on what's important.
Manage Your Money
Monthly, weekly, and daily focus sections keep you focused on what's important.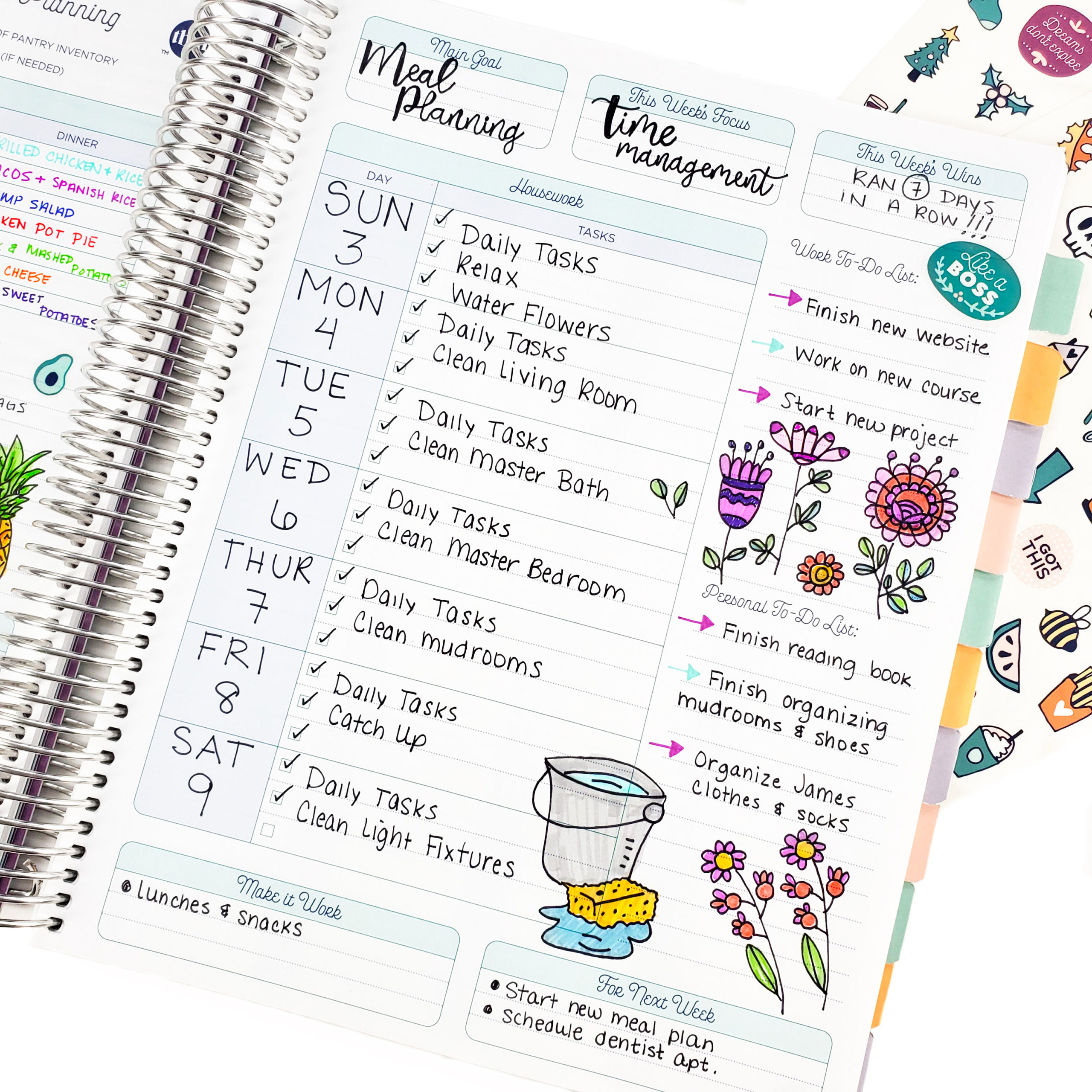 Prioritize Your Life
Prioritized to-do lists, goal lists, and a weekly habit & goal tracker will keep you track to meet your life, work, and personal goals.
Be Creative
Use every space in the Live Rich Planner® to design, create, and transform it into whatever you want it to be. Get colorful and have some fun!
Manage Your Time
A monthly and weekly layout with daily time slots allows you to plan every hour of your day.
LIVE RICH PLANNER PRODUCTS
"Happy Floral" Live Rich Planner®
Get Creative & ORGANIZE your life
120gsm, wood-free paper
Custom designed double-pouch folder bound in the back of the planner
New! 3 full pages of hand-drawn stickers coiled into the back of the planner
"Happy Floral" LRP Digital Download
Easy to print, undated pages
2 Digital sticker sheets
Two PDF Downloads (Book Binding & Single-Sided Printing)
307-320 Pages (including front cover, tab artwork, and back cover)
NEW! TBM Changeable Covers
Easily swap out the front covers for a new look
Comes in 2 sizes
Two designs to choose - Hanging Plant and Rainbow Quote
Snap-off your current cover and snap-in the one of your choosing
TBM Planning & Budgeting Sticker Set
3 Hand-drawn sticker sheets
Over 150 stickers
Animals, hobbies, reminders, pay day stickers, and more!
Fits great in all Live Rich Planners & Budget by Paycheck Workbooks
Happy Customers

Get Your Live Rich Planner Today!
Consider it a 24/7 organizational tool which invites you to add your own personal design to each page. Achieve the creative element of a bullet journal without spending hours designing templates from scratch.
It's my hope that the Live Rich Planner® becomes a place where you can calm your mind, find peace and have a little fun.
FREQUENTLY ASKED QUESTIONS
LIVE RICH PLANNER
ON INSTAGRAM
Make sure to follow @liverichplanner on Instagram for more planner inspiration!
This error message is only visible to WordPress admins
There has been a problem with your Instagram Feed.
Copyright © 2023 The Budget Mom LLC.